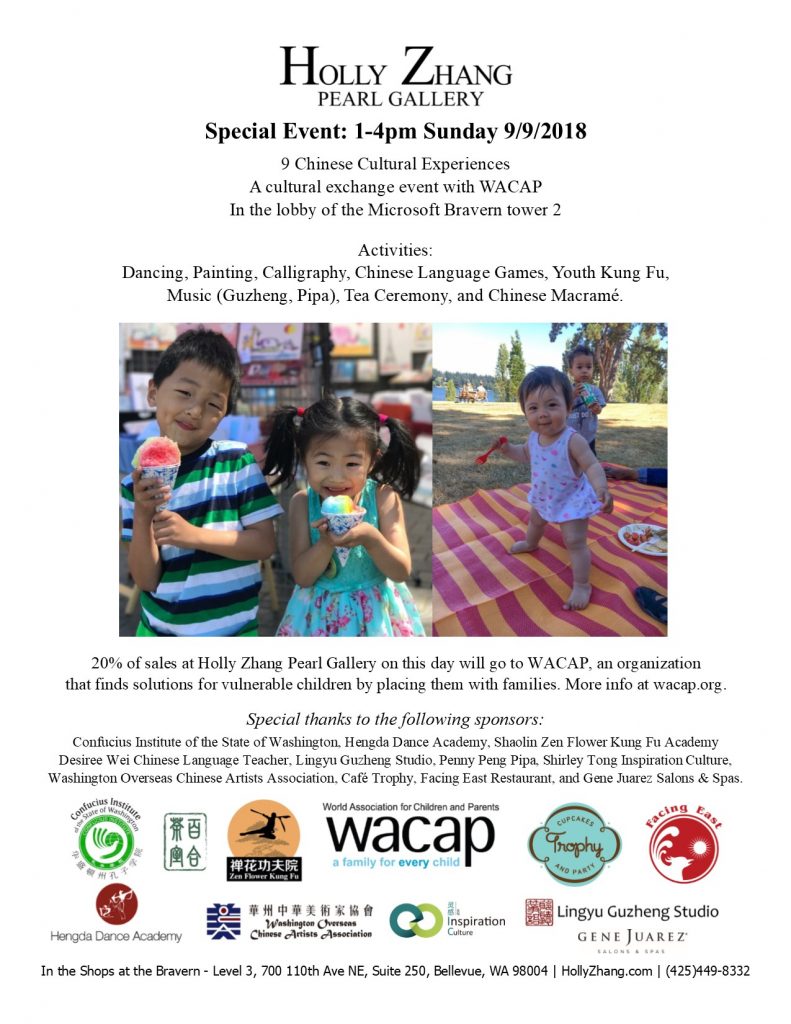 Holly Zhang Pearl Gallery Special Event
Holly Zhang Pearl Gallery
A cultural exchange event with WACAP sponsored by Holly Zhang Pearl Gallery at the Bravern.
On Sunday September 9, 2018 Holly Zhang Pearl Gallery will be hosting a free event from 1-4 pm at the Bravern in Bellevue, WA. This event will feature 9 Chinese cultural experiences including music, drawing, lantern painting, calligraphy, language, dance and more from the local Chinese communities. It is also an opportunity for new immigrants to learn about American Culture and for the adopted children to learn about their heritage. In the meantime, it is also an opportunity to learn more about the adoption of children from China via WACAP.
Why 9 events on the 9/9?
Nine is a lucky number in the Chinese culture. The pronunciation of the word nine is very close to the word that means everlasting.
Owner, Holly Zhang said "9/9 is the birthday of my daughter Sage Hong Rivera and I wanted to do something meaningful to celebrate her first birthday. Hosting a Cultural Exchange Event with the WACAP adoption agency means we can have a fun community event as well as provide a way for Chinese adopted children to learn more about their heritage."
WACAP is an adoption agency that also helps facilitate educating adopted children about their cultural heritage. "This is a wonderful opportunity for adopted children from China and their families to share in the kind of cultural experience we know is so important to a child's identity as they grow up" said Gregg Eubanks CEO of WACAP.
The Holly Zhang Pearl Gallery will also be donating 20% of the proceeds of sales on 9/9/2018 to WACAP to support their work with adopted children.